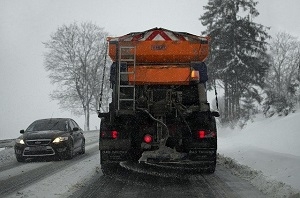 The Driving Instructor Guide to: Driving in Winter Conditions
At C&A Mackie Insurance Brokers, we work closely with driving instructors across the UK to deliver comprehensive driving insurance solutions. We care about our customers, and we are all too aware of the challenging driving conditions that winter can present our drivers with.
As driving instructors, you will be in the car the majority of the day. Rather than simply travelling from A to B as most drivers do, driving instructors need to be continually on the road even when it is raining, windy, snowing or icy outside.
The possibility of having an accident at this time of year is greatly increased, and the effects can be devastating for your business if this does happen. Consequences could include loss of your vehicle, loss of earnings, a lot of time wasted having to produce accident data and reports to your insurer, a payment of costly insurance excess, and loss of you no claims bonus (which means a higher renewal price.) Of course, the reputation of your business could also be affected if an accident were to happen, as pupils may cancel their lessons with you as a result.
However, a few tips and techniques could help drivers and driving instructors stay safe on the roads, no matter what the weather conditions.
To try and help you stay safer on the roads in winter, we have produced this guide to help you to consider your driving techniques and plan ahead before your trips out, whether you are with a pupil or not. Without careful planning and driving in the winter, you may lose your vehicle, suffer a loss of earnings, increase your insurance premiums and even injure yourself or your passengers. This could cause devastating consequences and so it is really worth having a read of some tips to avoid any of this taking place.
RoSPA (The Royal Society for the Prevention of Accidents), one of our partner's, Bill Plant Driving School's fleet management pupils, have published a useful and thorough guide to driving in wintery conditions which can be downloaded online, for free, here. This guide illustrates some really good points, which we have highlighted below:
Judging the severity of the weather– The guide says, "In very bad conditions, avoid driving completely, unless you absolutely have to make the journey and driving is the only option." If you think that it is just too bad outside to have one of your driving lessons take place, then don't feel bad cancelling and rearranging for a later date. Your pupil may also feel very nervous driving. If you feel nervous, then they will too! So, it really isn't worth driving in these conditions. As the old saying goes 'it is better to be safe, than sorry!'
Prepare your vehicle– Your pupils will need to get used to driving in all kinds of weather conditions, and so for instance, if it is heavy rain, this may not be bad enough weather to cancel the driving lesson with your pupil, but it will be worth preparing your vehicle and talking with the pupil about how to drive in this kind of rain. Before starting the lesson, talk through with the pupil about how to check over the vehicle. This will include ensuring your lights are clean and working, that your battery is fully charged, your windscreen, wiper blades and other windows are clean, and that your tyres are in good condition. You will want to check the tread depth and pressure. You must also ensure that your brakes are working well.
Learn how to adapt your driving– In reference to the example above, you will want to ensure that you and your pupil adapt your driving technique in heavy rain. This includes reducing your speed, avoiding harsh braking or acceleration, slowing down in time and leaving a lot of space between you and the vehicle in front. This may include ten times what you normally would. Some roads can be waterlogged in heavy rain; it is therefore wise to check your route before you travel. Country roads, with a lack of gritting and fewer drainage systems, can be difficult in this weather and it is a good idea to stay clear of these kinds of routes. You may also find when driving in bad rain that you experience aquaplaning. This is caused by driving too fast into surface water. The guide says, "Aquaplaning can be avoided by reducing speed in wet conditions. Having the correct tyre pressure and tyre tread depth will maximise your tyres' ability to maintain their road grip. If it happens, ease off the accelerator and brakes until your speed drops sufficiently for the car tyres to make contact with the road again."
Pack your car with an Emergency Kit – Your emergency kit should include "a tow rope, shovel, boots, hazard warning triangle, De-icing equipment, First aid kit, working torch, blanket, warm clothes, hot drink in a flask, and a charged mobile phone." Every car should have one of these kits in case you get stuck anywhere. It might not just be if your car breaks down, but also if you are stuck in heavy traffic.
When it comes to snow – Snow can be challenging because we don't always experience a lot of snow in the UK, especially in the South, and so many drivers do not know what to do when it does start snowing. When it snows, you can still drive in it, as long as you know how to drive in it, and you have appropriate tools, like a spade, in the back of your car in case you get stuck. The guide says, "if you get stuck in snow, revving your engine to try to power out of the rut will just make the rut worse. Instead, move your vehicle slowly backwards and forwards out of the rut using the highest gear you can. If this doesn't work, you may have to ask a friendly passer-by for a push or get your shovel out."
When it comes to visibility – Winter driving conditions can make visibility particularly bad. The glare of the winter sun can make driving very difficult, especially if this is coupled with the brightness of snow on the ground. It can be scary when you suddenly lose visibility when driving. In these conditions it is important to reduce the speed you are driving, keep your windows smudge free, and always have sunglasses on hand. If you are driving in bad fog, it is usually best to wait inside until it has cleared.
Next month we will be sharing advice on "What to do in the event of an accident".
Comments
Go to blog index