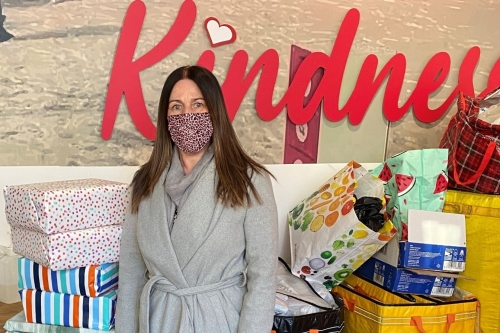 Earlier this week, Lynda Jones (pictured right), one of C&A Mackie's Insurance Advisors, visited the Kindness Homeless charity in Glasgow to drop off donations for their Christmas shoebox appeal.
Kindness Homeless supports Glasgow's homeless, as well as families that have been housed and are needing some help. In addition, they support families in financial hardship with household goods.
Lynda and the team filled shoeboxes and bags with items such as toothpaste and toothbrushes, gloves, deodorant, chocolate, and soap. HRIB (C&A Mackie's parent company) provided a cash donation which the team used to add more items to the generous donations of goods from staff.
Lynda said: "I already donate clothes to Kindness Homeless, so when I saw their shoebox appeal, I was keen to help more and asked people in our office to get involved too.
"I feel that we do not know the personal circumstances regarding the homeless people on our streets. And people can be too quick to judge. It's frightening and shocking that there are so many people living on the streets. At this time of year and the season of goodwill to all, we should help people who are less fortunate than ourselves, especially with the awful weather we get here too."
HRIB Group Chairman, Graeme Robertson, added: "I'm really proud of Lynda and the team for supporting the Kindness Homeless shoebox appeal, a great local cause. And I wish the recipients of the donations well. Anybody can get involved and support this great charity."
Get involved
Kindness Homeless assists homeless and vulnerable people within Glasgow. They provide them with hot drinks, clothing, toiletries, and essentials.
If you're interested in supporting Kindness Homeless, visit their Facebook page. There you'll find out more about what they do all year round for the homeless and vulnerable in Glasgow. There are lots of ways you can get involved including donating goods, time or money.
Comments
Go to blog index